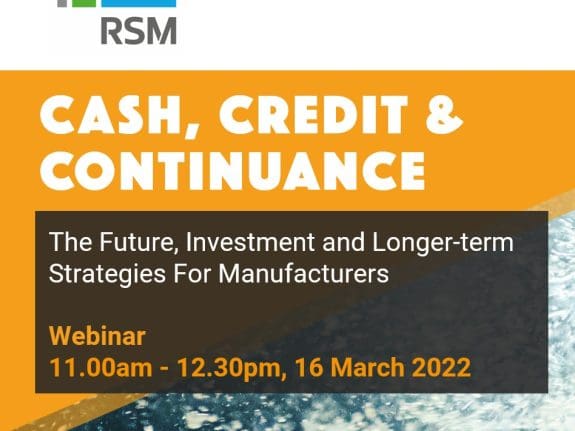 Register:
Cash, credit and continuance: The future, investment and longer-term strategies for manufacturers | RSM UK
Join Make UK and RSM at the upcoming webinar to discuss the strategic actions manufacturers can take to address the liquidity concerns raised in our recent industry report Cash, Credit and Continuance. We will follow up our previous event where we discussed the short-term priorities and actions, with a discussion about the priorities for manufacturers' financial health, and recommendations to secure longer term security and opportunities.
The event will be chaired by Richard Partington, Economics Correspondent for The Guardian and he will be joined by Troy Barratt, MD of Contracts Engineering, Make UK Senior Economist, James Brougham and cash, debt and risk management specialists from RSM.
Background
The report shows that the most negatively affected aspect arising from the liquidity squeeze for manufacturers is their ambition for business growth, with 65% of firms reporting that their plans for growth were negatively affected by a cash crunch. Throughout the past two years, many manufacturers have found themselves repurposing cash that will have been earmarked for investment and business expansion into immediate business continuity. This will have continued implications for the industry well after the pandemic's passing, as firms' plans to innovate will have been set back considerably.
As part of the event, our expert panel will discuss key areas of focus for business leaders including opportunities for future growth, policy priorities, digital technologies and climate change.
Back to News