About our Metal Welding Services
We run six dedicated welding bays operating 18hrs a day in order to meet the tight deadlines of our customers and to manage the high volumes of parts we process on a weekly basis. We weld materials as thin as 0.7mm and in excess of 16mm and manufacture all our jigs and fixtures in-house.
As specialists in MIG and TIG welding, we provide precision metal welding services for four main types of metal:
Mild Steel
COR-TEN (Weathering) Steel (we provide steel certifications and use certified COR-TEN welding wire)
430, 304 and 316 grades Stainless Steel (including Cold Metal Transfer welding)
1050, 5251 and 6 series Aluminium Alloys (including Cold Metal Transfer welding)
Our team regularly undergoes in-house training, as well as 3rd party training from organizations such as The Welding Institute. We invest in modern MIG welding equipment, including Cold Metal Transfer to ensure minimal distortion and maximum weld penetration when welding aluminium and stainless steel.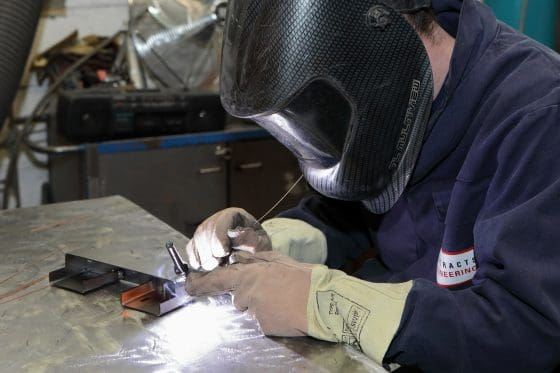 Welding Fabrication Services
We are an ISO 9001:2015 certified business focused on meeting our delivery and quality requirements. Contracts Engineering leads our peer group in focusing on our customers as we are one of the only companies in our industry with monthly profit share targets tied to On-Time-In-Full deliveries and quality. Every team member knows what our targets are and works in unison to meet or beat them.
We regularly include our fabricators in our Design for Manufacture service, ensuring our design service creates parts and assemblies that both meet our customers' needs and are able to be fabricated in a cost-effective way. Click here for a case study.
Get in touch to find out more about our welding fabrication services or discuss your metal fabrication requirements.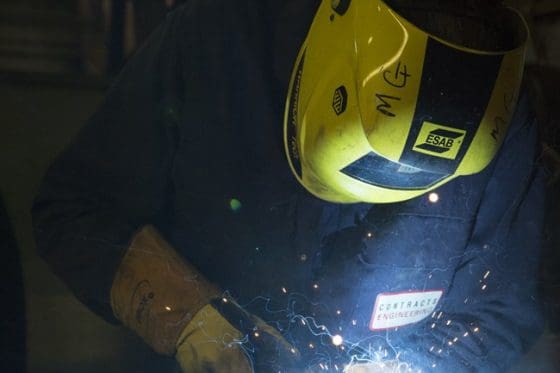 Why Choose us for Metal Welding
Customer-focused Flexibility. We work across two shifts per day for fast turnaround times and flexibility for our customers. Our speciality is our experience in delivering high volume requirements or complex projects in short lead times. Quick turnarounds are often required in a number of dynamic industries, from food processing to industrial sectors and construction.
Quality. Our ISO 9001:2015 certification confirms our dedication to high-quality standards in our warehouse. We utilise extensive quality control processes to ensure that we deliver high standards of quality within everything we do from the initial design process to delivery of our finished product.
Contracts Engineering provides MIG and TIG welding services in all main steel grades and aluminium alloys, as well as other fabrication and manufacturing services. To find out more about Contracts Engineering welding services or discuss your requirements with an expert, get in touch.
Get in touch