At Contracts Engineering, our Core Purpose is to achieve engineering excellence through the smart application of technology and by empowering employees to work in partnership with clients. We are one of Southeast Britain's largest subcontract manufacturers. Our capabilities include 3D CAD design, laser cutting, folding, forming and welding and our constant investment in staff training, plant and equipment, and software give CEL industry-leading results in terms of delivering on-time-in-full with an exceptionally low level of quality spills. Visit our LinkedIn page to read more.
Your Full Service Manufacturing Partner
Contracts Engineering Ltd is an ISO 9001:2015 fully integrated precision manufacturer based in Sittingbourne, Kent, UK. Our 16,000 sq ft factory operates across two shifts per day, giving us maximum flexibility in production, and allows us to complete high-volume requirements with short lead times.
We perform all fabrication in-house using our modern CNC machines and welding capabilities. We work with our supply chain on metal finishing processes such as powder coating, galvanizing, anodizing and plating, and regularly work with mild steel (including pre-galvanized and Zintec), COR-TEN steel, stainless steel and aluminium, and occasionally with brass and copper.
Our customers are located throughout the UK and products are regularly shipped throughout Europe, the Middle East and North America. Our main end markets include commercial industries such as light infrastructure, street furniture, construction, design installations and hard landscaping equipment. Our industrial end markets include extraction & ventilation, food processing and niche engineering equipment companies.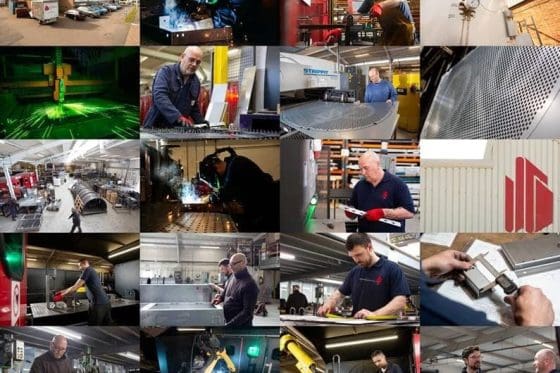 Focus on Quality and On Time In Full Delivery
Using ISO 9001 and internal Quality and Delivery metrics, we consistently impress our customers. At Contracts Engineering, all staff monitor two Key Performance Indicators (KPIs), Quality Spills and On-Time-In-Full delivery. The Directors and Managers review these every week and all staff discuss monthly results during an All-Hands meeting. Our modern, SQL-based ERP system, coupled with our ISO 9001:2015 accreditation with the British Standards Institute and internal policies support our continued drive toward improved quality and production efficiencies.