ERP & Production Planning System
Using our advanced ERP & Production Planning system, we are able to ensure industry leading On-Time and In-Full delivery and Quality standards. This gives our customers complete confidence that CEL will deliver high quality parts and fabrications on time.
We work with clients who are looking for a supply chain partner to support their requirements, be they a full turnkey packaging and assembly service, reshoring their manufactured parts to the UK, or call-off orders with fixed pricing and flexibility around delivery dates to support their changing production requirements.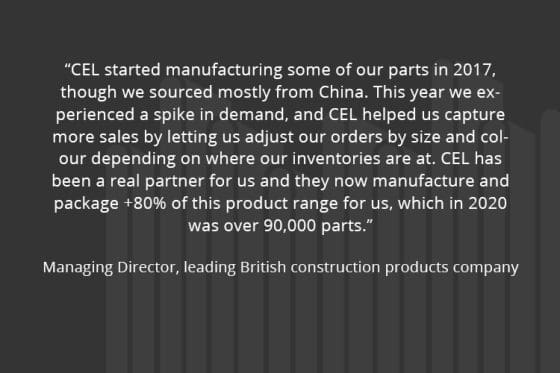 Production Schedules
Several of our customers rely on us to meet their production schedules, ranging from high-end industrial equipment working to quarterly build cycles to retailers with tight installation / store closure schedules.
Examples of what CEL offers include:
Fixed weekly deliveries
Quarterly or annual call-off agreements with fixed pricing
Parts storage for quicker turnaround
Order fulfillment, including shipping goods with customer branded packing materials and delivery notes