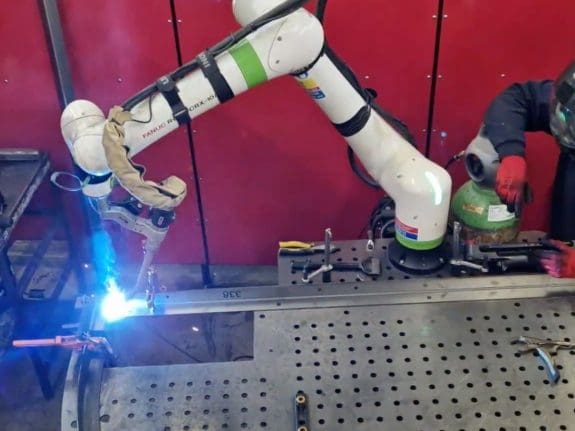 We are thrilled to announce the release of our latest service offering, our MIG welding cobot. This cutting-edge technology represents a major milestone in our company's commitment to revitalising the manufacturing industry in the UK, as well as scaling Contracts Engineering Limited ("CEL").
The MIG welding cobot is a collaborative robot designed to work seamlessly with our fabricators, increasing productivity, and improving the consistency of repeat batch welding operations. Equipped with advanced sensors and intuitive FANUC click-and-drag programming, it offers a safe and efficient solution for medium batch welded assemblies.
This new service offering is part of our ongoing effort to offer innovative solutions that meet the changing needs of our clients and prospects. By combining the best of robotics and human skills, we are helping to create a safer, more efficient, and more productive manufacturing environment.
We believe that this new cobot will be a valuable asset for us as we continue to increase our competitiveness and enhance the quality of our clients' products. Our leadership team is dedicated to providing our team with the support and training they need to get the most out of this new technology.
We are confident that the MIG welding cobot will play a major role in shaping the future of manufacturing in the UK, and in scaling CEL.
Thank you for your continued support.
Back to News