About Specialist Street Furniture Metal Fabrication
At CEL, we're a specialist street furniture manufacturer, which is in part due to our successful partnership with Furnitubes International, one of the UK's leading, design-driven street furniture companies. We provide specialist expert metal fabrication for street furniture across the UK, Europe and further afield using advanced CAD technology to meet your needs.
Based in Sittingbourne, Kent, all of our fabrication services are completed in-house by our trusted team, using advanced and sophisticated systems and equipment to create bespoke products.
We offer folding, forming and bending services for multiple material types including sheet metal, tube, angle and box section materials in mild steel, stainless steel and aluminium, and provide precision laser cutting services using modern and sophisticated equipment.
We have also recently added wood assembly to our service offering, including pre-treatment and wood-to-metal fitting, specifically for our street furniture and hard landscaping customers.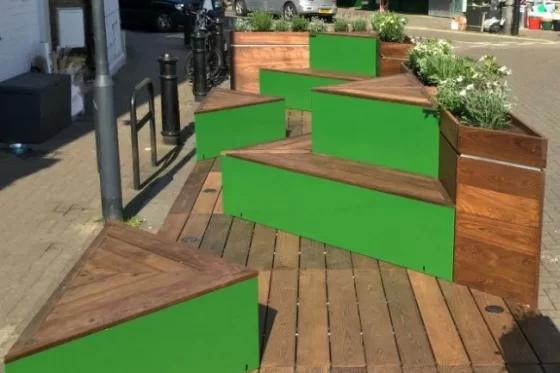 The Contracts Engineering Process
As an ISO 9001 accredited business, our approach takes a focus on quality assurance. This is intertwined into all internal processes and fuels the ways in which we operate.
With this in mind, we use advanced technology and systems to help us produce the best possible results, to customer specification. This improves levels of efficiency and allows our team to have complete oversight over production management, as well as precise and accurate delivery – even on bespoke or custom projects. We prefer to work with our customers on a collaborative, long-term basis to build valuable relationships and enabling us to provide bespoke services. ​
This bench is the RailRoad line of street furniture designed and marketed by our sister company Furnitubes International.
Street Furniture Case Study
A long-standing customer for production of other products distributed throughout Europe, the owner approached us to manufacture prototypes for new large format urban bicycle enclosures that could then be rolled out as contracts are won.
CEL's engineering team worked closely with our customer for a number of months to prototype design concepts, including four prototype versions before the full launch. This collaboration over the prototype enabled the customer to reduce production costs and optimise the final design. The successful prototype went on to win significant contracts all over London and now in Europe, and we continue to manufacture approximately 50 units per month and update the design for manufacture. ​
To find out more about our street furniture fabrication services or speak to a member of our team, get in touch.​