About our Metal Cutting Services
Our two modern fibre optic laser cutting machines run up to 24hrs a day and cut sheet sizes up to 3000mm x 1500mm.  The materials we are able to profile include:
Pre-galvanized or Zintec steel up to 3mm
Carbon Steel up to 25mm (Including COR-TEN and weathered steel)
Aluminium up to 30mm
Stainless Steel up to 30mm
Copper up to 12mm
Brass up to 15mm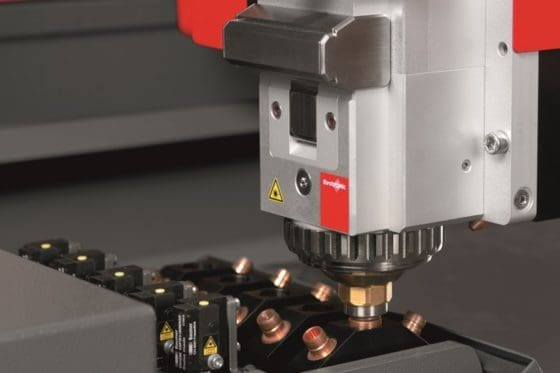 Why use Laser Cutting?
In addition to the fast cutting process, Fibre Lasers can provide a high quality etch cut, a function which is used regularly by our customers for part identification and for aesthetic purposes. When we bring together our in-house design services with laser cutting, we are able to laser etch part numbers into all parts. This aids our customers ranging from large industrial companies ordering components from CEL to construction and hard landscaping companies requiring part identification numbers for site installations.
Get in touch to find out more about our Fibre Laser Cutting or to enquire about any additional services we offer such as our quality assurance processes and custom metal finishing services.
Get in touch
Why Choose our Laser Cutting Services?
Lead Times & On-Time- in-Full Delivery. We operate by a daily two-shift system and cross-train our staff so that our laser is operational across both shifts. These training programs allow CEL to consistently beat much larger laser cutting companies on lead times.
Supply Chain Integration. We offer our customers much more than a laser cutting service. Through our advanced ERP & Production Planning system, we inventory customer parts to guarantee short, even next day deliveries.
Customer-focused Flexibility. Our precision cutting services are altered to fit your exact requirements, ensuring the finished product is created exactly how you envisioned.
We can optimise our fibre laser machine to operate up to 24 hours a day, with the additional option of automated process options to speed up the processing time.
For further information on fibre laser cutting machines or to discuss your requirements with our specialist engineers, get in touch. Alternatively, to find out more about our other metal fabrication services, take a look here: Metal Punching Services, Metal Welding Services, Metal Folding & Forming.
Find out more